Uncomplicated Ingredients, Familiar Flavors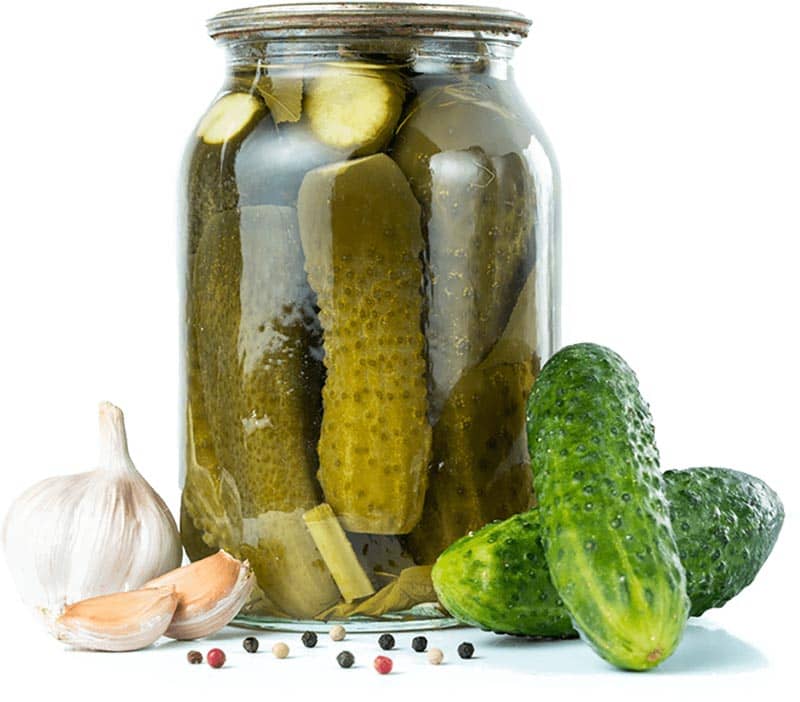 Simply Delicious
At Buckman Brines our goal is to create live-culture, lacto-fermented foods that spotlight what makes fermented food great: flavor and crunch. We're not reinventing the wheel. We're not here to overwhelm you with trendy new flavors, or unusual offerings. We're about the classics: simply delicious fermented foods using organic ingredients and time-honored fermentation procedures.
It's about salt: we only use Jacobsen's Sea Salt because we believe it's the best.
It's about water: clean, pure, filtered water goes into every brine.
It's about time: It takes 1 to 2 weeks for a healthy organic cucumber to become a mouth-watering kosher dill, or a halved jalapeño to become a spicy, briny treat. During that time we taste test repeatedly to be sure the ferments are up to our high standards. We jar and label each ferment by hand.
Salt+water+time = simply perfect flavor you can count on. Every time.
Where to Buy
Good Pickles. Good People.
We care about more than just pickles. We care about you.
We know how hard it is to find tasty food that's also good for you.
Our founder started on this path 15 years ago when, after getting a health wake up call he couldn't ignore, he learned to ferment foods on his own weight-loss and health journey. His journey led to becoming a professionally trained chef preparing incredible multi-course meals for large groups so more people could find health and flavor.
Learn More
In Case You Were Wondering
YUP, WE CAN PICKLE THAT!
Slightly Spicy Green Beans
$

20.00
Our Slightly Spicy Green Beans are lacto-fermented with fresh organic sliced jalapeño peppers, and Jacobsen's Sea Salt. Our longer-than-typical fermentation process produces high levels of lactic acid resulting in a strong sour flavor. Present in lacto-fermented foods, lactic acid has been found to benefit overall gut health. Delicious and healthy (and spicy!) in one jar you won't be able to keep closed.
Where to Buy
The Little Ass Kickers are a family favorite! They make a great addition to sandwiches, potato salad, and any meal needing a crunchy, slightly hot addition. Not too hot, just a lil kick to the taste buds!
Buckman Brines pickles are the best fermented products out there. They use the highest-quality ingredients, have zesty flavors, and the perfect crunch! As a Naturopathic Doctor, I value the importance of supporting a healthy microbiome with great sources of natural probiotics. Buckman Brines products promote optimal gut health in the most delicious way possible.
I recently purchased some Buckman Brines Garlic Scape Pesto for my wife (a true pesto lover!). I'm not a big pesto fan, but was delighted when I tasted this pesto. It has a great rounded flavor, and the garlic didn't overpower. I was super glad I had purchased two bottles! I have a feeling that we're going to be purchasing more before too long!
I absolutely enjoy Chef Thubten's gourmet pickles, and have for months. They make for a great part of my breakfast a couple of times a week. And the pickle juice is awesome! The flavor is superb and they are always so incredibly fresh, and made with the best and most natural ingredients.
5/5 stars! Buckman Brines pickles are incomparable to any other pickle I've had! They are crunchy, sweet, and absolutely delicious! I love using them as a natural source of probiotics & electrolytes for my patients. Thanks for the fantastic product!
From the Buckman Brines Blog
PICKLE POSTS
STOP SEEKING FLAVOR IN UNHEALTHY PLACES
Discover the Endless Possibilities and Enjoy the Best Pickles You've Ever Had
Where to Buy